Coffee beans processing plant & Coffee beans cleaning line
Product Detail
Product Tags
It can clean mung beans, soya beans, beans pulses, coffee beans and sesame
The processing line include the machines as below.
Pre cleaner : 5TBF-10 air screen cleaner remove the dust and lager and smaller impurities Clods remover : 5TBM-5 Magnetic Separator remove the clods
Stones remover : TBDS-10 De-stoner remove the stones
Gravity separator : 5TBG-8 gravity separator remove the bad and broken beans, Elevator system : DTY-10M II elevator loading the beans and pulses to the processing machine
Color sorting system : Color sorter machine remove the different color beans
Auto packing system :TBP-100A packing machine in the final section pack bags for loading containers
Dust collector system : Dust collector system for each machine to keep warehouse clean.
Control system :Auto control cabinet for the whole seeds processing plant
SUITABLE : We will design the coffee beans processing plant as your warehouse size, You can send us the layout for your warehouse, then we design the cleaning area, the good stock area, the working area, and we design the cleaning area, loading area, stock area, processing area for make sure you will easy to operate the coffee beans processing in warehouse.
SIMPLE : We will design one control system for you to control the whole beans plant, so that to achieve one key running and one key off. For the install we can arrange our engineer to do the installation for you.
CLEAN: The processing line have the dust collecting parts for every machine. It will be good for the environment of the warehouse. Keep clean for your warehouse.
Layout of coffee beans processing plant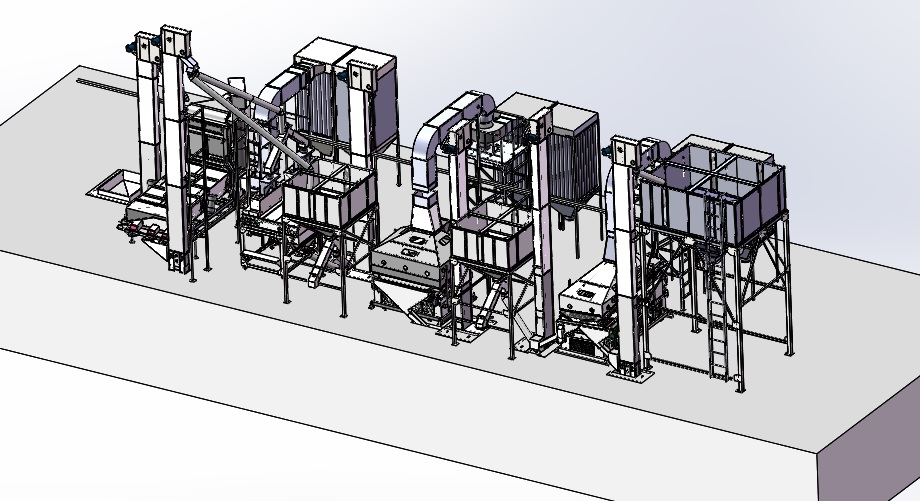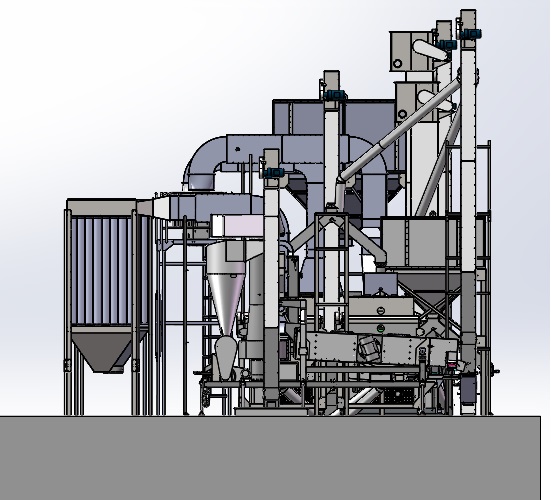 ● Easy to operate with high performance and easy for maintance
● Dust collector for each machine to protect clients warehouse clean.
● High quality motor for seeds cleaning machine, high quality Japan bearing.
● All the machine which touch the coffee beans it made by stainless steel for the food grading machine.
Main Machine Introduction
1.Bucket elevator
Introduction:The TBE series bucket elevator is a fixed mechanism for hauling materials. It uses the bucket to contain powders, particles or small bulk    materials, and then elevates the bucket in a vertical and continuous way. This machine is commonly seen in different-sized feed manufacturing plants, flour processing mills, starch factories and cereal storage stations. ucted by stainless steel if requested, and the machine color could be tailored as well.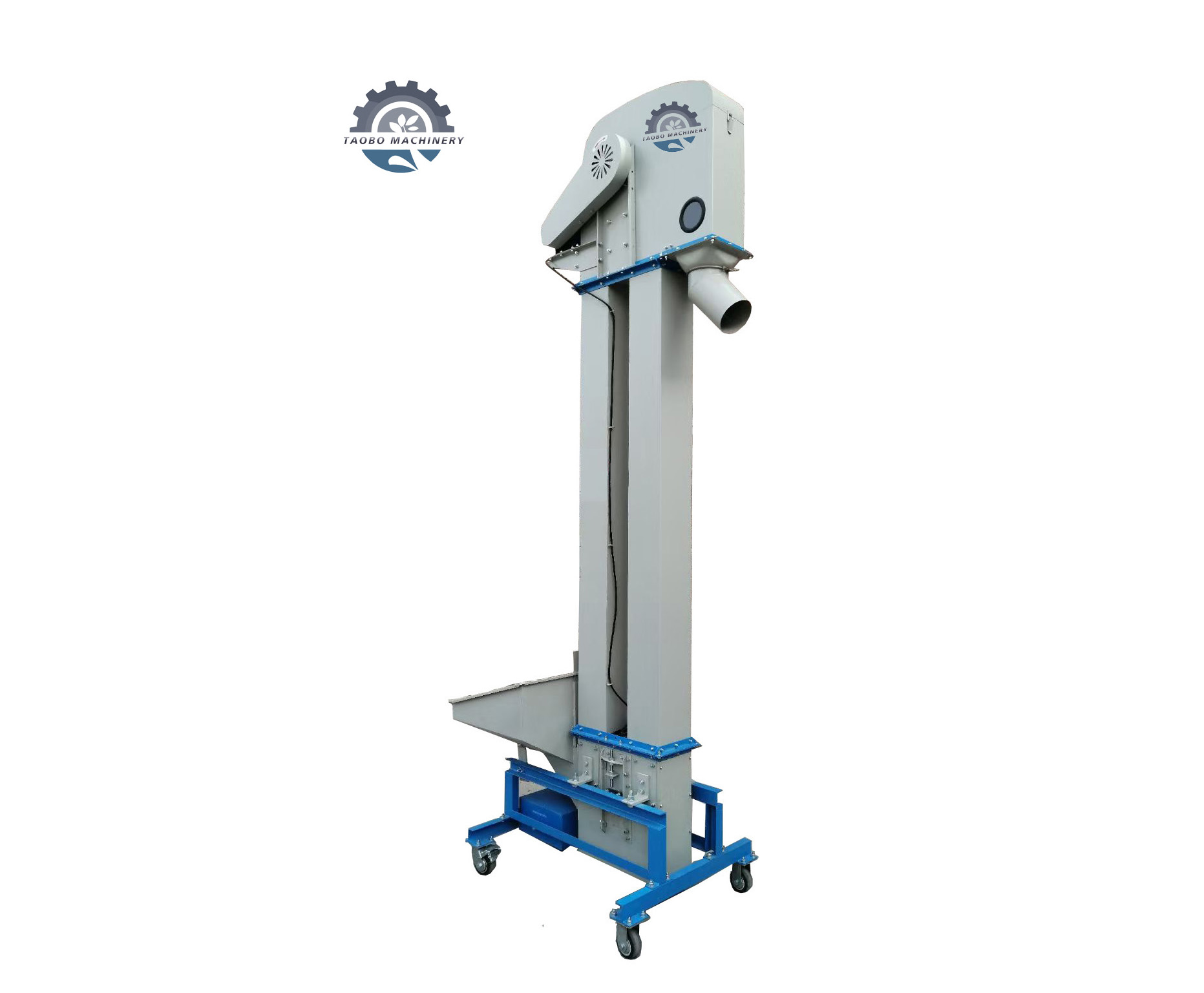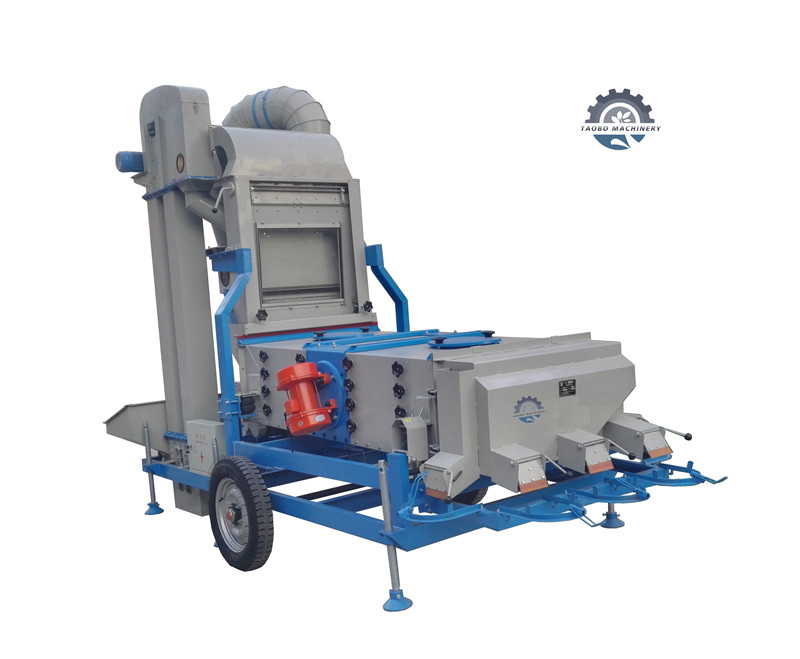 2. Air-screen Cleaner
Introduction :It can clean light impurities through vertical air screen and the vibration grader can clean big and small impurities. The material can be classified into big, medium and small size with different layers of sieves. This machine can separate the stone different size with grain/seed, but can not remove the same size ones with grain or seed.
3. Gravity De-stoner
Introduction :De-stoner  find their application in the food processing sector and in the milling industry, but they are also used in the seed sector, in particular on products harvested close to the ground They are used for separating dry granular material according to specific weight into two fractions. The goal is the elimination of heavy  impurities, such as stones, metallic particles and other objects from, for example, coffee, grain or pulses.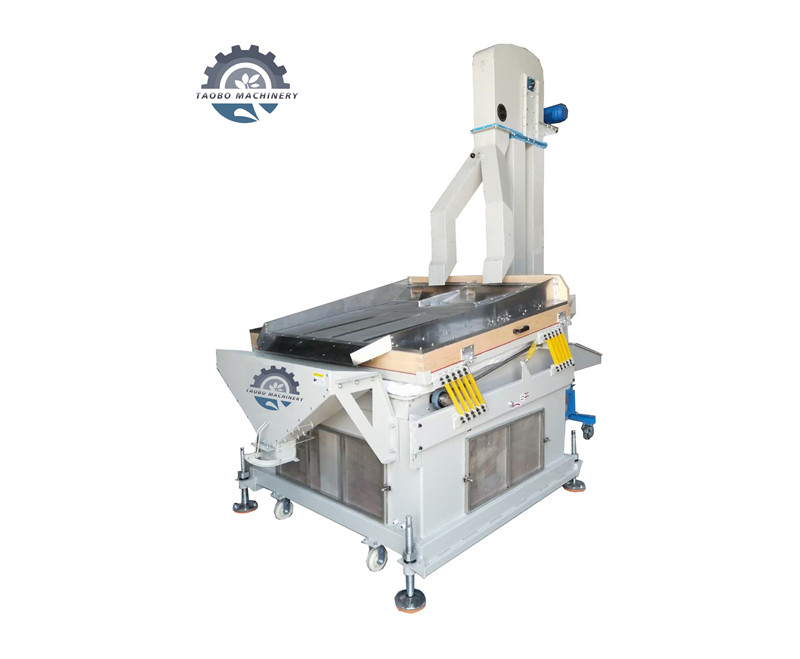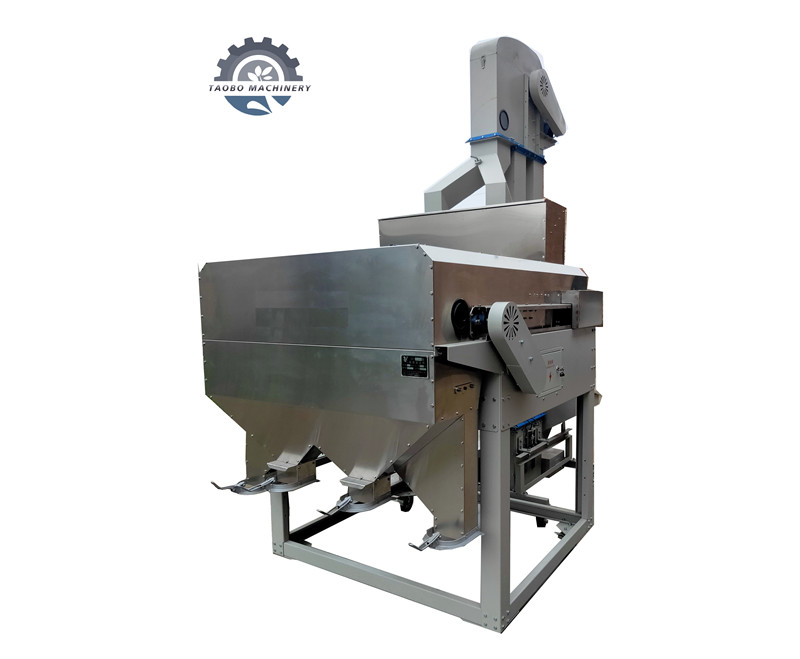 4. Magnetic separator (new generation)
Introduction: 5TBM-5 high-performance soil separator is used to separate metals or magnetic clods (soil block) from grain (note: the soil block need contain little magnetism). Grain mixed with metals or magnetic clods go through a closed strong magnetic field at appropriate speed, when the material throwing out, due to different strength of attraction of the magnetic field, to separate metal, soil and clods from grain.
5.Gravity separator (new generation)
5XZ series Gravity table / gravity separator machine /sesame seed gravity table / gravity separator machine is the blowing type gravity separator, used for separating grain and seeds which have same shape but different in  gravity, finally obtain the best seed which will be used for sowing.
5XZ series Gravity table / gravity separator machine/The gravity table / gravity separator machine can efficiently remove moldy kernel, immature  shriveled, insect damaged seed or broken seed to ensure maximum quality of the final product. The gravity separator can be used to separate all kinds of seed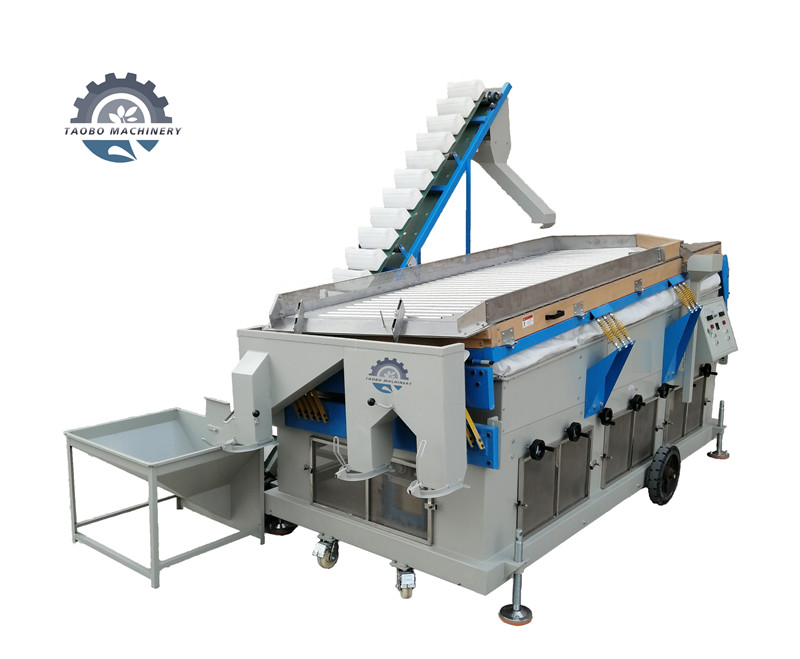 6.Color sorter (new generation)
Introduction
1. Ultra-clear color 5400CCD sensor—— 160 million  pixels, the micro-color difference recognition ability is stronger.
2. Advanced point-to-point dust absorption system——This system is based on the hydrodynamic design, and the             efficiency of each group of channels is more uniform.
3. High speed high frequency feed system——The material
flow is bigger and more uniform, which can improve the throughput of the machine.
4. 15 inch super intelligent control screen——which can achieve more efficient and convenient intelligent control to machine.
5. Super large capacity processing chip——Scan speed is greater than 30000 times / sec, the overall performance of the system is increased by 3 times.
6. Rich shape sorting function——Add thorn sorting option at shape sorting function to meet the needs of more customized color sorting.
7. Gas consumption is reduced by 20%, all is for saving your cost.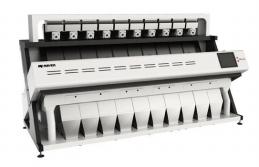 7.Auto Packing machine
The quantitative packing of granule materials in rice, seed, feed industry etc.
Product Feature
•  Auto lifting conveyor
•  PLC+weighing controller
•  Pass ISO9001:2008 and TUV
•  Auto sewing and thread cutting
•  Easy installation and operation
•  Three load cell structure to keep more stable
•  All the parts contact with material are stainless steel
•  This auto packing machine consists of automatic weighing device, conveyor, sealing device and computer controller.
•  Fast weighing speed, Precise measure, small space, convenient operation.
•  Single scale and double scale, 10-100kg scale per bag.
No.
parts
Power (kW)
Load rate %
Power consumption
kWh/8h
Auxiliary energy
remark
1
Main machine
40.75
71%
228.2
no
2
Lift  and convey
4.5
70%
25.2
no
3
Dust collector
22
85%
149.6
no
4
others
<3
50%
12
no
5
total
70.25
403
---
Previous:
High reflective tape for safety clothing
---
Write your message here and send it to us